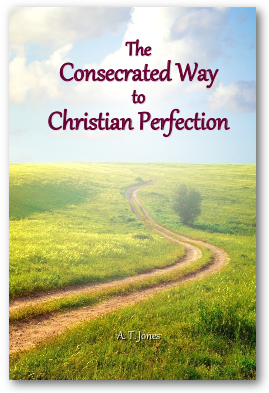 1. There is a house in heaven built,
The temple of the living God,
The tabernacle true, where guilt
Is washed away by precious blood.
2. Long since, our High Priest enter'd there,
Who knows the frailties of our frame;
Who loves to hear His people's prayer,
And offer to our God the same.
3. The daily ministry He bore,
Till ended the prophetic days;
He opened then the inner door,
To justify the sacred place.
4. Before the Ark of Ten Commands,
On which the Mercy-seat is placed,
With His own cleansing blood, He stands,
Till Israel's sins are all erased.
5. This work performed; the firm decree
Will pass on all the sons of men,
He that is filthy, let him be,
He that is holy so remain.
6. To Christ let living faith ascend,
Keep God's Commandments, patient wait,
Till we shall see our Dearest Friend,
And pass, with Him, the pearly gate.

---
Playback
Instrumental – Sampled Sounds
Youth Group – Instrumental
---
Download
MP3 – Youth Group (Instrumental)
---
The text for this hymn comes from James White's second hymn collection, "
Hymns for Second Advent Believers
" published in 1852.
There are many lines of prophetic evidence which Adventists draw upon to prove that our world is now in what the Bible terms the time of the end, when Christ shall soon return to take the subjects of His new kingdom to be with Him forever.
But none of these evidences are so impressive as the great 2300-day prophecy of Daniel 8:14, and the focus it places on the true sanctuary in Heaven, where Christ is ministering as our great High Priest. This emphasis on the heavenly temple is a key that unlocks many parts of the book of Revelation as well, where the focus constantly shifts between scenes on earth, and scenes in the temple in heaven.
While many professed Christians have their attention on earthly Jerusalem, a city which is no longer holy, and on the fleshly Jews, who are no longer a holy people (except for those few faithful ones who are to be found scattered in every nation and religion), every true Adventist has his heart turned to follow Christ in His work in heaven, like the needle of a compass follows magnetic north.
The last generation of faithful, who live to see Christ appear without dying are distinguished by this description: they follow the Lamb wherever He goes. When He enters into the most Holy place, to administer the judgment and final atonement, they follow Him by faith, and cooperate with Him in that work. When He leaves the temple to come back as King of kings, they also leave the temple (Revelation 14:15,17). He rides a white horse, and they follow Him also on white horses (Revelation 19:14). So will they ever be with Him, whom they love to follow.

Tags: Atonement, Heaven, High Priest, Sanctuary, Temple